Felicia Juntunen
CMC
Elder Care Management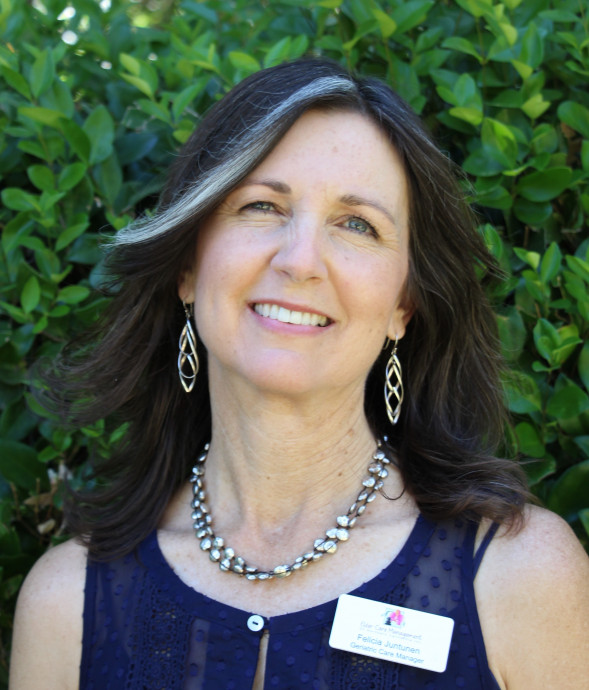 Felicia Juntunen
CMC
Elder Care Management
Advocate Location
Sacramento , CA 95825
Specialty
Medical Guidance
Other Services
Special Care & Aging
How I Can Help
At Elder Care Management we are health and human services specialists who guide, support, and advocate for families caring for older adults. We take a holistic and client-centered approach to understanding the needs of our older adult clients and offer solutions to challenging situations in times of uncertainty.
Our Care Management team has over 50 years of combined experience in the senior care field and have educations in gerontology, care management, social work, and nursing. Elder Care Management Care Managers work together as a team, collaborating and complimenting each other with their diverse experience and strengths, to best support each client. We provide services to those living at home, in an assisted living, memory care or clinical setting. Our professionals can assess a client's living situation, provide written Care Plan, attend medical appointments, interact with physicians and care providers, and intervene in emergency situations.
Our mission is to provide the professional guidance and support you need to ensure that your loved one receives the quality care they deserve. We look forward to getting to know each client personally and to becoming a positive force in their lives.
Important Information About Me
I am insured
My geographical area of practice is Greater Sacramento area including all of Sacramento County and parts of El Dorado, Placer, and Yolo Counties
Why I Became A Professional Health Care Advocate
My own understanding of the value of medical advocacy became apparent early on in my own caregiving journey, as I offered regular support to my aging grandparents. Whether attending physician appointments or accompanying them to the emergency room, I found that they benefitted tremendously from having someone familiar with their health history and current challenges and able to act as a quick and assertive spokesperson. Information was more accurately relayed and received and family was better informed about diagnoses, treatment, and follow up care. Initial resistance to my presence was quickly met with relief.
As a result of my personal experience I became a staunch advocate of the importance of medical advocacy– so the transition from personal to professional application has been a natural journey. Offering this kind of support helps build rapport with a client, brings them comfort and increased security, and provides reassurance for their families.
As a care manager, I am providing medical advocacy daily, a few scenarios include:
- observing clients and communicating with the staff who provide hands on care, discerning often subtle changes that merit medical attention
- providing encouragement and assistance to families as they consider how and when to pursue treatment for loved ones with dementia
- attending in office appointments and ensuring medical orders and follow up care are accomplished
- providing information and assistance for the completion of advance health care directives
- troubleshooting medication management issues and collaborating with physicians to improve medication adherence
Improving a client's outcome in a challenging medical situation, whether in the emergency room, physician's office, or home, is rewarding and almost always results in developing a bond with the client that leads to a stronger working relationship.