Abla Gharib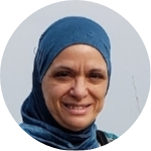 Abla Gharib
Advocate Location
Chicago , IL 60611
Specialty
Survivor Support
Other Services
Medical Guidance
How I Can Help
Since I am a person with disability, and have a son that also had a stroke, I can empathize with people with disabilities and understand their experiences. I also studied Rehabilitation Counseling, which enhanced my counseling skills and my abilities to guide and assist people with disabilities to live independently in the community. I can assist by advocating for them and by connecting them to the necessary recourses.
Important Information About Me
I offer a FREE Initial Consultation
I offer TeleAdvocacy Service
My Survivor Support Advocacy Qualifications
I am a survivor of Amputations in 4 limbs
I have been trained and/or certified as a peer mentor.
I have been a peer mentor for individuals with amputations at Shirley Ryan Ability Lab for over 6 years
"I worked as a peer mentor for refugees with disabilities from countries affected by wars.

I also obtained a master in Rehabilitation counseling and completed 750 clinical hours at Chicago Lighthouse.

I have also worked at Access Living (CIL) and have been an advocate for people with disabilities for 20 years.

i am CRC and LPC certified"
Why I Became A Professional Health Care Advocate
I survived one in a million odd due to toxic shock syndrome, and was in the hospital for a year. It was a real difficult struggle, and I continue to struggled and face challenges on a daily basis. I knew I had to hold on and survive for my 5 children. Not too long after that, my son had a stroke and I had to take care of him as well. I feel that I have an important purpose in life. I would like that purpose to be helping others recover and give them hope.
Address Line 2 (if applicable)
Apt 3603