"Ho Ho …(throat clear)…Ho" Don't Let That Cough Spoil The Holidays!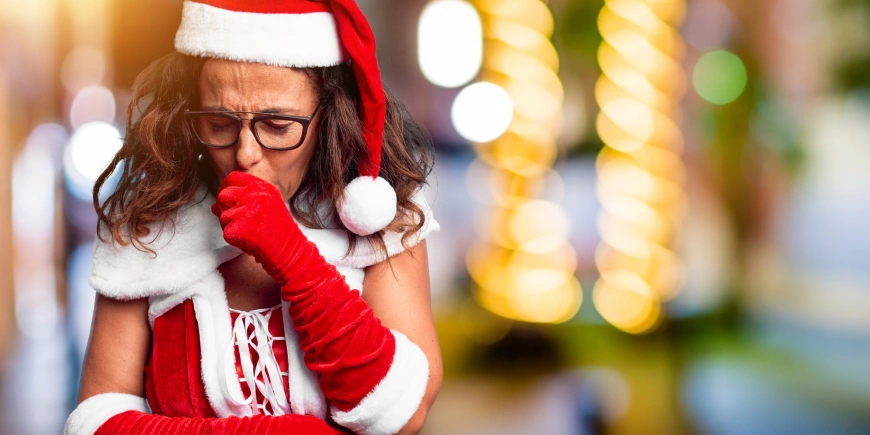 We are now in the throes of the holiday season, and I'm wishing this finds you well. This is the time of year when we typically attend holiday parties, eat holiday foods, drink holiday drinks, and lose sleep due to the holiday hustle and bustle. Well, this year will definitely be different as social gatherings and holiday parties are canceled due to the pandemic. But that won't stop many of us from over-indulging, staying up late, and doing what we normally do during the holidays…albeit alone in our own homes. This year, we celebrate virtually.
In a way, the virtual realities of 2020 have given us a new ability to focus in on details we might otherwise ignore. Videoconferencing tools like zoom and skype are not as impersonal as many of us feared. In fact, virtual meetings can reveal previously unnoticed mannerisms or draw attention to funny or annoying speech patterns. If we pay close attention, virtual communications can even provide us with signs of illness.
When we log in for our family check-ins this year, we know right away who has joined the virtual party. This is when those videoconferencing tools amplify and highlight the good, the bad, and the worrisome. It's when the camera is focused on the face and the microphone amplifies the voice. Imagine this is what you hear through your computer speakers/headset:
"Ahem,..(clears throat) Oh, Goodness…(pause) Hello Every…(clears throat again)..body."
Ah, I hear mom has joined us.
"cough, cough, cough."
And so has Cousin John.
Pay attention when everyone is joining the virtual meeting. Listen carefully to the usual banter, "How do I start my video?" or "We can't hear you; you need to unmute yourself," Coughs and breathing issues can be more noticeable on the computer screen than sitting face to face with someone in a noisy, distracting environment. This presents an excellent opportunity for family, friends, and advocates to help identify potential health issues that might otherwise go unnoticed. For example: It's normal to occasionally clear your throat before speaking. It's not normal, however, to continually clear your throat, and if a cough has been persistent for more than eight weeks, it's time to get it checked.
Virtual holiday get-togethers are the time to catch up, celebrate, and share memories. This year, it's also time for us to check up on each other and make sure everyone's okay. This means asking the question, "Hey Mom, Is it too dry in your house?" or "Hey, Cousin John, How long have you had that cough?"
Investigating the reason for a chronic cough is imperative for proper treatment. Cough can occur with an acute infection or the worsening of a long term condition such as asthma. Both medical and behavioral treatment methods are available.
Chronic cough or persistent throat clearing is quite common but challenging to assess. Many patients end up going from doctor to doctor, taking an assortment of medications, or simply ignoring the symptoms and hoping they go away.
There are several possible reasons for a persistent cough, and everyone should understand them. Possible causes include:
• Untreated reflux (especially eating rich foods)
• Allergies
• Smoking & Vocal cord growths
• Asthma, COPD, bronchitis
• Swallowing problems
Don't let that cough drive you crazy! As an Independent Patient Advocate experienced with voice and swallowing disorders, I can help guide you to get the proper care. Let's meet virtually to help navigate your way to better health.
Warm regards and wishing everyone a happy and healthy holiday season.