Is a Private Patient Advocate Worth the Cost?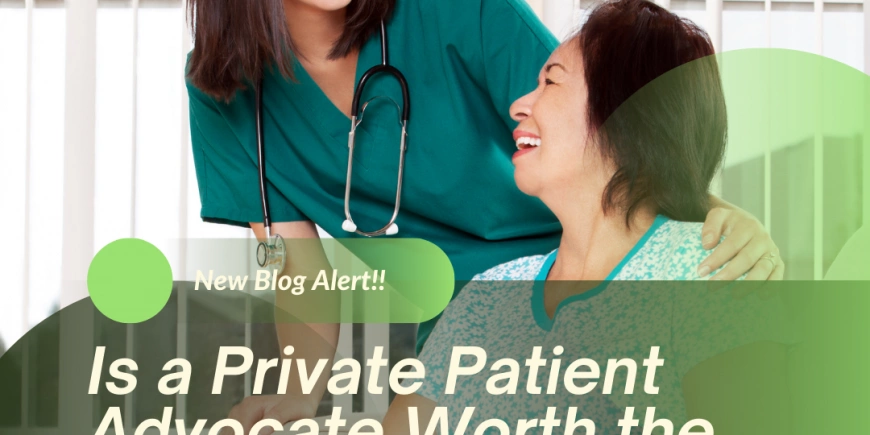 Yes…
While we can probably agree that our health is important! However, we also have to be considerate of the costs. We need money for necessities for food, clothing, housing, etc. In addition, many of us already have accrued healthcare costs including insurance premiums, deductibles, and much more. It may seem like hiring a private patient advocate, just doesn't fit in your budget. You may want to reconsider your calculations. In most situations, a patient advocate can actually save you money and help you END up with more MONEY than expected.
Medical Bills
Have you ever opened up a medical bill and become wide-eyed? Medical bills even when expected can be a lot. It is also not uncommon to encounter some unexpected expenses. A private patient advocate can review your medical bills to evaluate whether or not you have been correctly billed. If the event that your bill is incorrect, a private patient advocate can carry out the necessary steps to fix the issue. If your bill happens to be correct, then a patient advocate can negotiate the bill to accommodate more manageable payments.
We have many clients that we have saved over $300,000 in medical bills. Even if you are dealing with a small bill, we can still help.
Insurance coverage
Are you having problems with insurance coverage? Perhaps your currently enrolled plan isn't working great for you. Maybe you are paying a high monthly premium, but realized most of your care is not covered. Or your medications are too expensive. Or maybe you don't have insurance. A private patient advocate can help with that. Help determine what plan is best based on the medical providers you see, may see in the near future, and medications needed. If you were denied a certain procedure or medical treatment, we can help with that too!
Improved health:
Many times, achieving the right diagnosis and proper care is trial and error, and may require multiple opinions, specialists, testing, and visits. A private patient advocate can help navigate your path to help reduce unnecessary appointments and shorten the wait for proper management.
Reimbursement
If you have paid for medical expenses out of pocket, you may qualify for a reimbursement from your insurance. A private patient advocacy can check with your insurance company and submit a request for reimbursement.
While private patient advocacy is not covered by insurance, in many situations you may be able to include it as a deductible tax expense on your taxes.
Quality of Life:
Quality of life is a reason worth living. Most importantly a private patient advocate can help you achieve a better quality of life. Don't waste time worrying about managing medical bills, appointments, trying to decipher medical records, make appointments and determine next steps. Let a private patient advocate help navigate your medical care so that you can spend quality time with friends, family, and hobbies that you enjoy. Life is short, how are you living it?
In Summary: Is a Private Patient Advocate Worth the Cost? The answer is YES!
A private patient advocate can manage and negotiate medical bills, navigate insurance concerns, help with timely appointments, and help you achieve a better quality of life. You don't have to struggle through it all alone, let a private patient advocate help. Call Pathway Patient Advocates to learn more about how we can help (947) 517-8395