Independent Nurse Advocacy: The Remedy For Restoring Your Passion And The Perfect Career Move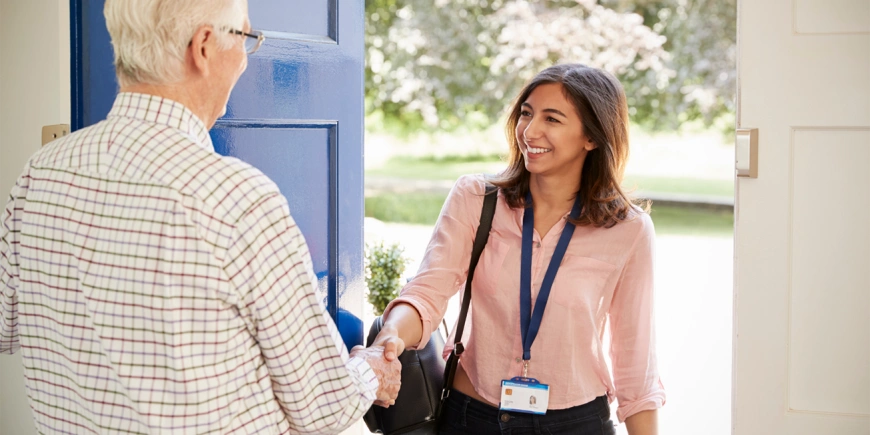 As a nurse advocate, you'll have the opportunity to speak up for vulnerable patients and help them get the care they need. Here's how you can advocate for them.
In a perfect world, nurses would have plenty of time to spend with each patient, getting to know them and their families on a personal level. However, the reality of the healthcare system is far different.
While being a nurse is rewarding, it can also be challenging. Many nurses are overwhelmed, trying to juggle a million things at once, leading to frustration and burnout. In 2020, researchers published a study in the journal Human Resources for Health which found that excessive workload, low staffing levels, long shifts, and low control are the top factors associated with nursing burnout. Patients and staff may suffer severe consequences as a result.
So, what is a nurse advocate, and what does this distinctive role entail?
Keep reading to discover the reasons why nursing advocacy may be an excellent new career option for nurses!
What is a Nurse Advocate?
A nurse advocate supports patients and their families by helping them navigate the difficulties and challenges that come with medical care and services. Essentially, a nurse advocate's role is to work on behalf of patients when interacting with hospitals, doctors, and insurance companies to ensure they receive the best possible treatment and serve as a critical liaison if they don't. In other words, they are the patient's greatest ally!
This is an incredibly important role, as patients and their families often feel lost and alone during what can be a very confusing and emotionally difficult time. But nurse patient advocates are there to help them through it all – ensuring they received the care and treatment they deserved.
What is the Importance of Being a Nurse Advocate?
Nurses are uniquely positioned to help patients navigate the healthcare system and play a vital role in helping patients receive the care they need and deserve.
As advocates, nurses can help patients navigate the often-complex world of healthcare and ensure their rights are respected. In addition, advocates can provide support to patients and their families during times of crisis and act as liaisons between patients and doctors.
They also serve as a resource for information about the healthcare system and help to navigate the often-complex world of insurance. Simply put, advocates are an invaluable resource for patients and their families.
What Makes a Good Nurse Advocate?
First and foremost, nurse advocates need to have a deep knowledge of the healthcare system and how it works. This can only be gained through years of experience working in the field. However, being a registered nurse patient advocate requires more than just a few years of experience in healthcare.
It takes a particular type of person to be able to sit with a patient and their family in the midst of tragedy and offer hope.
It takes someone strong enough to fight for what's right, even when it's not popular.
And it takes someone who is empathetic and compassionate yet assertive.
A good nurse advocate is all of these things and more. They are a voice for the voiceless, a champion for the hopeless, and a force to be reckoned with in the healthcare system.
If you can master all these skills, you will make an excellent nurse advocate.
What are the Roles of a Nurse Advocate?
Patients can make more informed decisions about their health care with independent nurse advocates, who help them navigate the healthcare system.
Some of the roles that a registered nurse patient advocate fulfills include:
Using their knowledge of the ins and outs of the healthcare system to get results for their patients.
Serving as a liaison between the patient and their care team, especially in cases of medical malfeasance or neglect.
Offering support and providing peace of mind to patients and caregivers who have lost hope in the medical system.
In addition to providing one-on-one support to patients, nurse advocate roles also include working to educate the public about patient's rights in the health care system.
They may also work with hospitals and other healthcare organizations to improve patient care.
Ultimately, nurse advocates play an essential role helping to make sure that medical care is coordinated so that patients receive the best care possible.
Where Do Nurse Advocates Work?
Many people are surprised to learn that independent nurse patient advocates exist. To eliminate unnecessary conflicts of interest, these are nurses who work outside a traditional healthcare setting (often remote), providing advocacy and guidance to patients who need assistance navigating the healthcare system, often in cases involving lack of communication, inattentiveness, or neglect.
Nurse advocates can provide support through telehealth visits, by phone, or in person, depending on the patient's needs. The goal of a nurse advocate is to help patients receive the care they need and deserve.
Is a Nurse Advocate Degree or Certification Required to Get Started?
There is no requirement for a nurse advocate degree or certification to get started as an independent patient advocate.
However, advocates who have completed training or earned a certification in Patient Advocacy by the Patient Advocate Certification Board (PACB) may be better equipped to handle the challenges of the job and may be more successful in their careers.
As a result of passing the Board-Certified Patient Advocate examination, nurses can be recognized for their competence and professionalism, enhance safety, and ensure patients have a voice in their care by promoting unmatched competence and professionalism in patient advocacy.
What are the Benefits of Working as a Nurse Advocate?
Nurse advocacy offers dedicated nurses the freedom to set their own schedule and the flexibility to control their career path, where advancement is based on skills and experience, not on politics or favoritism.
Additionally, nurse advocates play a vital role in the lives of patients and their families by helping them navigate the often-complex healthcare system. They also have the opportunity to work with some of the most experienced and respected nurses in the country.
Nurse Advocate FAQs
What is the Role of a Nurse Advocate?
A commonly asked question is what does a nurse advocate do? Nurses across America are fighting for patient rights and better healthcare. A registered nurse, or «nurse advocate,» provides personalized assistance at every turn along the patient's healthcare journey.
They specialize in helping patients navigate the complicated system of care with emotional support in cases where they feel neglected by doctors--especially when there is malfeasance or neglect on behalf of medical professionals who should care about them most.
In addition, nurse advocates use their knowledge of how things work to get results on behalf of those they serve — all while educating people about rights and informed consent within this intricate web that we call the healthcare system.
How Do I Become a Nurse Advocate?
Nurses have a duty to be advocates for their patients, but many aren't aware of the opportunities available outside the typical "nursing box". Independent Patient Advocacy gives nurses the freedom to find their own niche and strategically market themselves to the patients and loved ones who need them.
So, if you're an RN who is passionate about advocating and want a chance at making an impact, Independent Patient Advocacy might be the perfect transition you've been looking for.
Many nurses just like you have discovered their next great opportunity and pursued their passions of starting a successful independent nurse advocacy business from the comfort of their own homes.
How Will Patients Find Me?
If you're passionate about nursing and advocacy, then Greater National Advocates (GNA) is the perfect place for you to get started. GNA is a nonprofit organization that promotes independent patient advocates, including nurse advocates, to the public at no charge. Once your profile is listed on the Greater National Advocates directory, your nurse advocacy services will be made available to patients and families who need your help.
Greater National Advocates (www.GNANOW.ORG) is the premier national directory for patients and loved ones in need, and they make sure the people who need nurse advocates can find them.
By serving as a nonprofit foundation, GNA assists advocates in marketing their services directly to the public. Their highly visible online directory makes it easy for advocacy professionals to get discovered by the people who need their services. So, if you're ready to take your nursing career to the next level, signing up with Greater National Advocates is the logical first step. It's free for nurse advocates to get listed and it may be one of the best decisions you'll ever make!
Are There Resources to Help Nurse Advocates Get Started?
Besides getting listed on GNANOW.ORG, there are a handful of nonprofit patient advocacy organizations that provide education and support for the profession, such as the Pulse Center for Patient Safety, Education, and Advocacy. Pulse offers a variety of free programs that enhance the advocacy community by fostering relationships, sharing case studies, and providing resources and tools for advocates looking to expand their knowledge base.
The National Association of Healthcare Advocates (NAHAC) was the first organization formed to serve the professional advocacy community. NAHAC offers a paid membership that provides continuing education, mentorship, and networking opportunities for advocates. HealthAdvocateX is another national advocacy nonprofit that provides outreach and training for advocates and for individuals interested in self-advocacy, patient empowerment, and healthcare equity.
There are many other businesses, educational institutions, and for-profit organizations that serve the advocacy community by offering continuing education courses, BCPA test preparation, and networking.
How Much do Nurse Advocates Make?
Nurse advocate salaries can range between $45,006 and $85,312 a year, according to payscale.com. A different salary may apply depending on the state/city of employment and the degree or certification held. For nursing professionals who launch their own independent advocacy business, the opportunities for financial success can be limitless.
As a nurse advocate, you have the unique opportunity to set your own schedule and earn as much money as you want. There is no set wage for nurse advocates since they are typically self-employed. This allows them to charge whatever hourly, daily, weekly, or monthly rate they see fit.
And because there is no limit to the number of clients they can see, there is also unlimited earning potential.
So, if you're looking for a career with flexibility and great pay, then nurse advocacy may be the perfect fit.
The Bottom Line
If you're looking for a new challenge in your nursing career or want to leverage your nursing degree to start your own consulting business from home, consider becoming an independent nurse advocate. Whether you're seeking a new challenge or interested in nursing entrepreneurship, becoming an independent nurse advocate for patients who are vulnerable may be the perfect move.
Contact Greater National Advocates today to learn more about how to join get listed on the GNANOW.ORG directory and how GNA can help get you started on the rewarding path to becoming an independent nurse advocate.