A Life Well Lived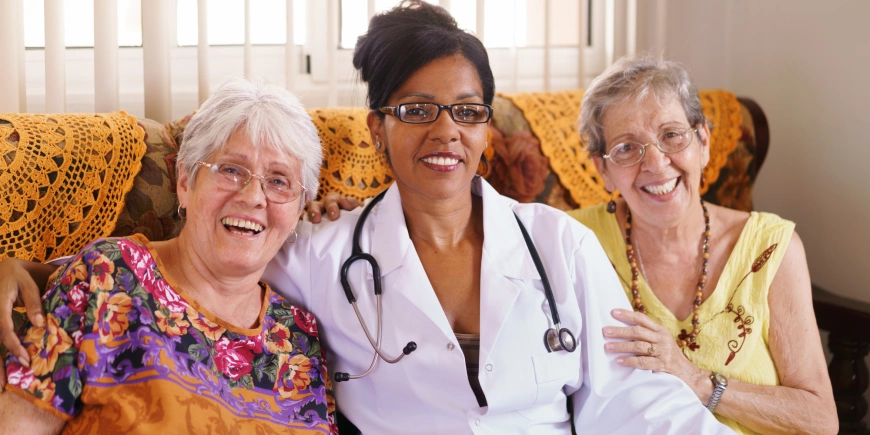 I was introduced to Rosalie in April 2009 as she was about to embark on her first total knee replacement. Her children recognized that living alone and scheduling a major orthopedic procedure at the age of 86 required forethought and outside support.
In April 2022, Rosalie passed away. Over our 13 years together, we managed numerous health-related issues that involved shared decision making with her physicians and her family. Shared decision making refers to when a physician and patient work closely together regarding diagnostic testing and treatment and surgery. It is based on clinical evidence and also balances risks and expected outcomes with patient preferences and values.
In Rosalie's case, we always took into consideration her goals for how she wanted to live and how she wanted her life to end. I am so pleased that we were able to carry out all of her desires. She often comes to mind as a positive example of my hopes and wishes for my clients, my family, and myself.
What follows are some of the decisions Rosalie made while we worked together.
Surgeries at the Age of 86, 87, and 89
At 86, Rosalie's arthritic knees were restricting her ability to get around and to embark on activities she loved. She had a highly active lifestyle that included lots of walking. As she was in great health, she and her physician made a mutual decision to not only have her first knee replaced, but also her second replaced 18 months later when she was 87.
Although no surgery is easy, the combination of a good surgeon, well planned rehabilitation, and a motivated patient, led to a great outcome that allowed her to resume all her favorite activities. Her quality of life improved considerably after each procedure.
At the age of 89, Rosalie developed carpal tunnel syndrome, which prevented her from sleeping comfortably. This made her irritable and increased her risk of falling, as she was up and down all night. A minor surgical procedure to correct this was successfully performed. Again, her quality of life improved.
Decisions that made sense for Rosalie at the time, may not have been appropriate for others. Underlying health, functional abilities, and quality of life are all considered along with prevention of suffering.
When to Make a Change in Living Environment
After Rosalie's first knee surgery, she decided she would no longer winter in Florida. She researched new living environments and moved into an independent apartment in a Continuing Care Retirement Community (CCRC): A great decision for her! She had an elegant apartment furnished with some of her favorite antique furniture and beautiful artwork on the walls.
She loved her new home and made it clear to both me and her children, over and over again, that she intended to live there through the end of her life.
Her new community offered fabulous amenities including an outpatient medical center with physical therapies, a gym, fabulous communal dining, and an inpatient skilled nursing facility—which she used as a stepping stone to return home following her second knee surgery. Additionally, there were many opportunities to socialize with others as she pursued her intellectual interests and enjoyed the arts.
The physical environment was such that she had to walk a long distance to get to dinner. The medical clinic and I credit the positive outcome of her second surgery with her increased level of physical activity. She remained ambulatory until shortly before she passed.
Knowing When You Need Additional Help
At 90, Rosalie decided to stop driving. This was a difficult decision for her and many others in her position. Putting the car keys down can often cause a major disruption within families and relationships. When faced with this difficult decision, I encourage families to think practically about how someone will now conduct their "life-management functions" and remind them to provide alternatives that still promote a sense of control.
In Rosalie's case, she was fortunate to be able to hire a companion to provide 3–4 hours per week of time to perform errands on Rosalie's behalf and to escort Rosalie on others.
In other families, it might be a child, grandchild, or sibling who dedicates a few hours a week to assist. Different forms of public transportation such as The Ride, cabs, and Uber can also be utilized. Continuing Care Retirement Communities will also often offer options for local transportation.
Managing Cognitive Decline Well
When she reached 92, Rosalie mentioned to me that she had concerns about her memory.
She was struggling to keep up with her mail and manage her finances, two activities that she had always performed with speed and accuracy. This was her first indication that something was not quite right.
How I wish that all our clients could be so self-aware—She was unafraid to speak up and open to both evaluation and treatment as cognitive changes occured.
In Rosalie's case, we started with her primary care physician who conducted in-office testing. We then proceeded with a referral to more complex neurocognitive testing that revealed a degree of cognitive decline. This diagnosis facilitated open and honest discussion about her strengths and areas in which she could use assistance. Most important, it allowed Rosalie, her family, and me to plan ahead.
Because she had clearly and consistently expressed her desire to remain living in her apartment, all was done to promote Rosalie's abilities and her sense of control over her environment. With her participation in the decision making, we gradually increased the use of private in-home assistance, ultimately involving 24/7 care in her home. She was fortunate to be able to afford such care, and we were fortunate to hire a group of women who delivered care of impeccable quality while treating Rosalie with dignity and grace.
When to Discontinue Further Evaluation or Treatment
At the age of 94, through an incidental finding from an ultrasound, an abdominal mass was discovered. Surgery was a potential treatment option, however Rosalie, her children, her physician, and I all agreed not to embark on further treatment. We discussed the fact that suffering would be inflicted, and it would not be consistent with Rosalie's wishes.
We did not ignore the situation. Rather, we thought through potential complications and how growth of the mass could manifest. In fact, it was one of the conditions used to substantiate Rosalie's eligibility for Hospice Care when the time came.
When to Embark on Hospice Care
Hospice Care is a philosophy of care that provides comfort for patients who are terminally ill and not seeking cure. It is designed to wrap around the care that families and caregivers provide to an individual. It does not use life-prolonging medications, but effectively uses medications that provide comfort.
One criterion for eligibility for Hospice services is a life expectancy of 6-12 months. In individuals like Rosalie, such predictions are difficult to make, but a combination of medical conditions made her eligible.
The extra layer of support—not only for Rosalie, but for her family, her caregivers, and me—helped us satisfy Rosalie's wishes to pass in her home surrounded by incredible love. For that, I am eternally grateful.
Final Thoughts
I so admired Rosalie. In our numerous interactions over 13 years, she taught me so much on so many topics—having a successful marriage, raising children, politics, Jewish traditions, and the importance of love and family.
Additionally, she taught me how important it is for the patient to consider their own wishes in every healthcare-related decision. Rosalie exemplified how open and honest conversations together and decisions made more than a decade in advance of one's passing can have a positive impact on herself and those who love her.
I am hopeful that Rosalie's example will prompt you to think about these issues for yourself and to initiate conversations among members of your family. Be like Rosalie.