Feeling Stuck With Your Medical Care?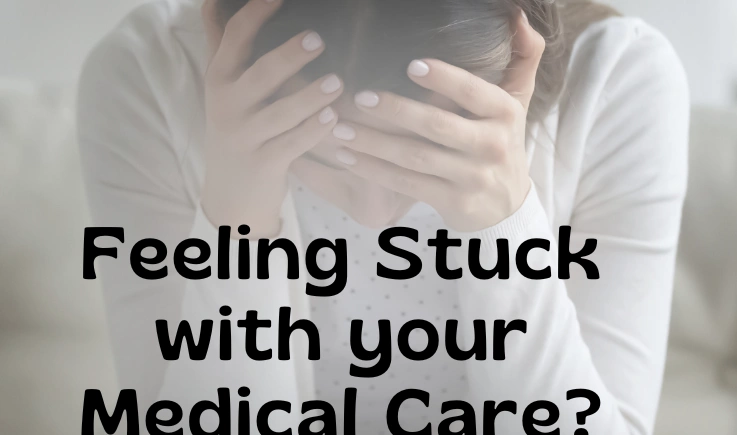 …New Year, new you! …This time it's for real.
So it's the new year and you feel, well… not so new. Maybe you feel like you're in a rut, or perhaps you have had a condition that you've been dealing with for a few years, for example, diabetes, and you just feel like no matter what good determination you have, you just can't improve the management. Perhaps you are trying to get off of medication and you've been unsuccessful. So despite it being a "new year" even though it's a new year, you are reluctant because it's not the first time that you've tried to make a change. So what do you do when it seems like you need a change in your health? Whether It's finding a new provider or additional specialist? Or maybe it's adding an additional regimen of support management to your team, say an extra supplement or maybe an extra treatment program or management or something. Perhaps you have an undiagnosed disorder that accounts for some of your symptoms. These are all potential possibilities. So what are you to do? Well, let us help!
How Can We Help?
Pathway Patient Advocates can help navigate a better healthcare path for you. How do we do that? Well, we start by discussing the details of your specific situation with you, and then together we come up with a personalized plan of how we can move forward to achieve your wish list.
Our medical background and private patient advocate experience allow us to quickly find the resources you need to best manage your health issue.
Chronic Condition
Whether it's Diabetes, high blood pressure, or even a rare condition, we can help. Your condition may be well-known, however often the complexity of the disease is not well understood. Although you may be well educated on how to adequately manage your condition, several challenges can occur that cause you to struggle with optimizing your care. Fortunately, there are several ways to overcome these barriers. New technology offers the ability to test and connect remotely to healthcare providers. Medications can also be delivered and arrangements can be quickly made if supplies run out. You may benefit from additional specialists and second opinions.
Cancer
If you or a loved one was recently diagnosed with cancer, you likely feel like your world has spiraled into chaos. There are many things to consider and time-sensitive choices to be made. Pathway Patient Advocates can help you navigate your journey and connect you with helpful resources. We can assist with finding second opinions, making timely appointments, communicating with providers, researching various treatment options, and assisting with billing issues.
Undiagnosed
Do you have symptoms, but can't seem to get to the bottom of what is causing them? We can help you find a specialist who can further evaluate you and uncover a diagnosis. We can help navigate and schedule those difficult-to-reach appointments. Once a diagnosis is found, then treatment options can be searched.
Let this year be the year of your new beginning of better health. We know you can do it, let Pathway Patient Advocates help.