Hints for Airline Travel in a Wheelchair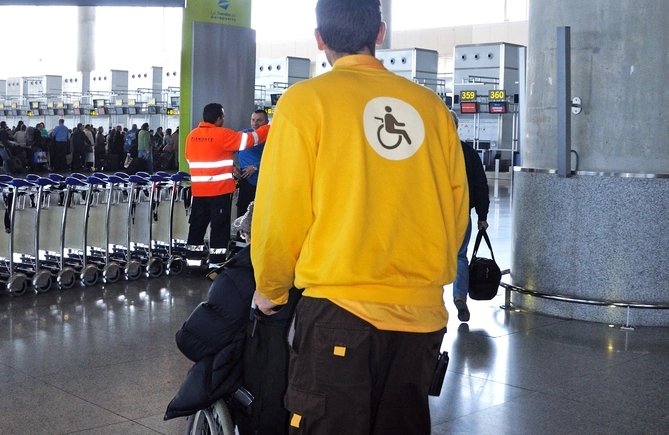 When advocating for my parents, I frequently come across a few issues with air travel. From ordering a wheelchair to going through security, I have learned to be as prepared as possible for unexpected hurdles. Preparing a to-do and reading information on the web will be of great assistance in your quest for a seamless airport experience. My advice is to review the Disability booklet from the U.S. Department of Transportation (information given below) to make sure you are as prepared as possible.
Although there will be some variation in the level of support each wheelchair-using person will need, these are some tips that I have found to be helpful for utilizing a wheelchair for airline traveling:
Try to get a non-stop flight. If this is not an option, arrange the flight to allow at least one hour in transferring to another plane. Contact the airline(s) via telephone and inform them that you will need a wheelchair and a person to escort you through security and possibly assist you until your flight leaves. It is usually a courtesy to tip the person who assists you in a wheelchair.
Once you arrive at the gate, check in verbally, and inform the person behind the desk of your needs so they can ensure that your wheelchair is ready for you when you land.
Sit as close to the front of the plane as possible. You can also request this when you check in. This will ensure easy access getting on and off the plane as well as to the bathroom.
If you have your own wheelchair, contact the airlines to check on their individual procedures. It is important to utilize only "gel type cell batteries." Always put a permanent type of identification tag or marker on your wheelchair. You also have the option to use your own (non-electric) wheelchair and check it at the gate
In your carry-on bag, make sure you have the following:
a cell phone with phone numbers of friends, neighbors, medical contacts & emergency contact information.
Necessary medication and multivitamins that you take daily. Consider bringing over-the-counter medicines for problems with digestion, diarrhea, pain, allergies, motion sickness, as well as antibiotic ointment and band aids.
Hand sanitizers or individual sanitary wipes are very handy to not only wipe your hands, but for wiping the surfaces of areas you will be putting your hands for long period of time on the airplane.
Visit The State Department Web site to find information regarding the following: (http://travel.state.gov/)
LInda Garvin, RN, MSN
President, Patient Advocate Bay Area, Inc.
info@patientadvocatebayarea.com