Patient Advocacy & TMI (Too Much Information)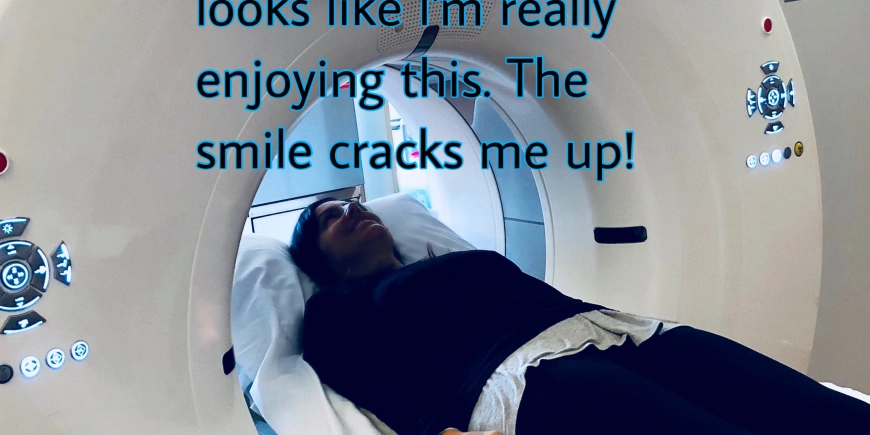 Remember the TMI warning? It's about to get real.
There is a lot of examining, testing and scanning.
All this testing began when I went to see my GYN doctor because I was having this very clear, slightly pink vaginal discharge. Not normal, but I thought it had something to do with my Mirena IUD or that I was seeing the beginning of menopause. My doctor did a vaginal exam, ran some tests like a CBC, CMP (if you don't know what these basic tests are: a very good teacher of mine always says: "LOOK IT UP"- SO GO LOOK THEM UP), and a pregnancy test. My uterus was slightly wonky (my words) on examination and she felt an ultrasound was in order.
After the ultrasound (which was how we discovered a suspicious mass/cyst on my left ovary), another exam- this time with my Gynecological Oncologist. Let me tell you- after having two babies and annual exams my whole adult life, the vaginal exam is fine (I don't love it, who does??), but what I really did not enjoy was the rectal exam. I DID SURVIVE IT! He could feel the cyst/mass there as well. I will say, while it may seem obvious that he would be doing this exam, I was surprised- things you don't know until YOU REALLY KNOW.
Another example. Is anyone familiar with the cancer marker CA-125 blood test? Gynecology and Cancer, not my wheelhouse, AT ALL. I'd heard the term and vaguely knew what the test was for, but I had no idea what the results meant. I did some research. According to The Foundation for Women's Cancer:
«The CA-125 CAN help the clinician define the nature of the problem and it is used as a tool to follow the treatment of ovarian cancers. Normal (or thereabouts) is 35 units with most healthy women having values less than this. Above 35 units there is more likely that there is trouble brewing in the body. If 35 is the "normal" level, mine was 53.9. This is not a definitive test for cancer, but it CAN provide some helpful information when ovarian cancer is on the table as a possibility. I find it somewhat hopeful that my level wasn't in the hundreds- this seems to be more predictive of cancer--- BUT NOT ALWAYS.
The CT scan was easy, the only thing is: why it is needed? What does a CT scan actually do and what does it tell you? What are the risks of being exposed to radiation during the scan? Why contrast during the scan? What is the contrast? Can you have an allergic reaction to the contrast? AND any other questions that might occur to you as you do your RESEARCH!
Ultrasound: I cannot state clearly enough how important it is to do your best to understand what your tests mean. I thought my ultrasound was just fine, but when I called an organization dedicated to helping women with gynecological issues, I found out that perhaps my ultrasound was missing some information that COULD be predictive of ovarian cancer AND could help drive the best course of action. Who reads the scan? What information is needed to help the doctor make the best care decisions (I mean we are talking removal of my organs here). I requested a new ultrasound and picked a radiologist specializing in women's health to re-do the scan. I had my first ultrasound report (for comparison), CT scan, and my list of questions regarding the missing information, in my hands, when I went in for this second scan.
TIP# 3- THE POINT IS: KNOW WHY you're HAVING ANY TESTS DONE, UNDERSTAND THE BENEFITS AND RISKS ASSOCIATED WITH THEM, AND REMEMBER YOU HAVE THE RIGHT TO CONSENT OR NOT, TO ANY TEST. YOU ALSO HAVE THE RIGHT TO ASK FOR A REPEAT TEST IF SOMETHING SEEMS AMISS. TRY AS BEST AS YOU CAN TO UNDERSTAND WHAT THE RESULTS MEAN. IF YOU DON'T UNDERSTAND, IT IS YOUR RIGHT AS A PATIENT, TO ASK UNTIL YOU DO UNDERSTAND.
TIP# 4- YOU SHOULD KNOW THIS:
BEING INFORMED, I BELIEVE, IS ABSOLUTELY NECESSARY. HOWEVER, HOW YOU GO ABOUT IT IS UP TO YOU. WHETHER YOU GET CURIOUS AND ASK A LOT OF QUESTIONS OF YOUR HEALTHCARE PROVIDERS UNTIL YOU FEEL SATISFIED OR SPEND HOURS IN THE ARCHIVES OF A MEDICAL LIBRARY OR SEEK OUT A SECOND OPINION--FOLLOW THAT- JUST BE INFORMED.
HEALTHCARE PROVIDERS WANT TO GIVE THE BEST CARE POSSIBLE AND BY NO MEANS DO I WISH TO IMPLY THAT DOCTORS DO NOT KNOW WHAT THEY ARE DOING OR DO NOT WANT WHAT IS BEST FOR THEIR PATIENTS. QUITE THE CONTRARY. I FEEL SO GRATEFUL TO HAVE THE DOCTOR I DO ON MY SIDE AND I KNOW THAT WHILE HE WILL GIVE ME THE BEST POSSIBLE INFORMATION AS HE KNOWS AND UNDERSTANDS IT, IT IS STILL MY RIGHT TO QUESTION AND GO AFTER MORE INFORMATION SHOULD I WANT IT.
How did I feel? I didn't sleep so well- but a very lovely person told me sleeping was highly over-rated, which I thought was brilliant. I can function and be tired at the same time- who knew? Look, I was scared shitless. I had a meltdown, I got busy, I got reflective, and I melted-down some more. But I knew that whatever, ultimately, happened was totally out of my control. I just had to sit back and watch the movie that is was my life and know that I was ok in the NOW.
To be continued.